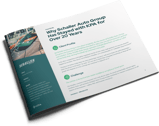 Why Schaller Auto Group
Has Stayed with KPA for
Over 20 Years
Schaller Auto Group, one of Connecticut's premier auto retailers, works tirelessly to ensure compliance in all aspects of their business, but even they know that things sometimes slip.
Learn how Schaller Auto Group avoids incidents, fines, and lawsuits with KPA's EHS, HR, and F&I workforce software and services.
Download the Case Study now.