Make Safety And Training Management Easy And Efficient
Sign up for your complimentary demonstration to see KPA's software in action, including:
Real-time incident management tools that give you the data you need to track incidents as they occur.
Award-winning library of over 1000 courses powered by an integrated Learning Management System.
Track and complete inspections for any type of asset. Make it easy with QR scanning technology.
Create a safer workplace with easy access to over 70 Million Safety Data Sheets.
ESG measurement, data management, and CO2 tracking to align with your sustainability initiatives.
Designed for easy reporting & training in the field, providing real-time access to key components of your program.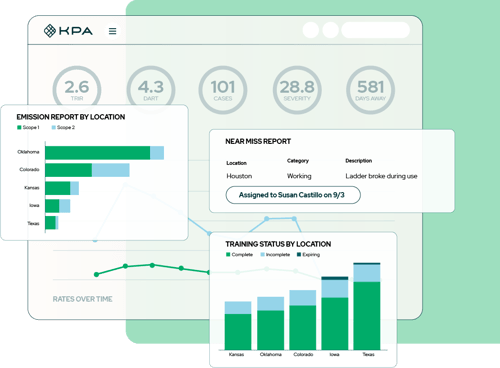 "

KPA started out simply filling our need for a manageable safety program. It has done that very well. Now, it solves reporting problems. It solves communication issues. It solves HR concerns. It's amazingly customizable."
Vern J., VP of Operations