Case Study:



HYLANT PROVIDES THE ULTIMATE IN CLIENT VALUE WITH KPA's RISK MANAGEMENT CENTER.
---
Hylant is the 11th-largest privately held insurance brokerage in the U.S. Headquartered in Toledo, Ohio, the company offers risk services for businesses across virtually all industries. With KPA's Risk Management Center, Hylant is empowering clients with all-inclusive risk management software that:
Saves time and resources
Prioritizes training plans
Provides meaningful data
---
"One of the benefits of the Risk Management Center is it's flexibility. It provides different solutions for different pain points, all managed inside the same system."
-Sean Majewski, Risk Advisor - Casualty Loss Control
---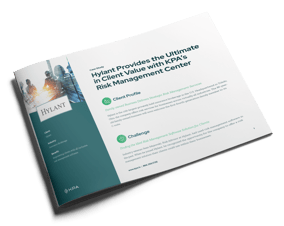 Download this case study to learn how KPA Risk Management Center helped Hylant save time and resources for their own business and their clients.